Dyna Scavenger Kit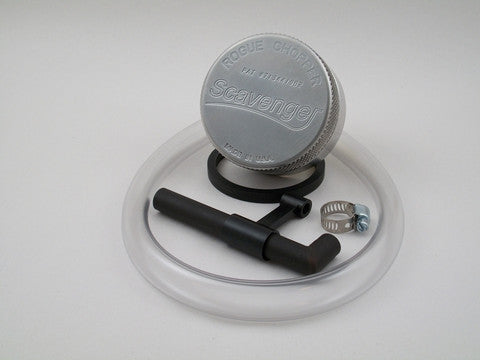 All Scavenger and supplement kits include:
A 30-Day 100% Satisfaction Guarantee!
Toll-Free Help Just a Phone Call Away
Comprehensive Instruction Guide
Demonstrational DVD
Scavenger Logo Sticker
This Scavenger fits the following motorcycles:

The RC160 fitting is made from chro-molly DOM seamless tube steel that is CNC machined then laser welded for precision tolerances and uniform finish. The yolk is CNC machined out of 1018 steel and both are finished with a black oxide coating. The "puck" is CNC machined out of 6061 aluminum, made to last a lifetime. The exit hose is a quality PVC hose and all its made in the USA.
Have more than one bike? Get a supplement kit!
*Flat rate shipping charge of $8.99 for US, $12.99 Alaska, Hawaii and Canada, and $19.99 International