Twin Cam A Touring Kit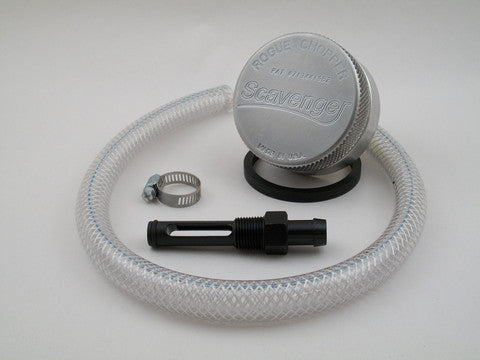 All Scavenger and supplement kits include:
A 30-Day 100% Satisfaction Guarantee!
Toll-Free Help Just a Phone Call Away
Comprehensive Instruction Guide
Demonstrational DVD
Scavenger Logo Sticker
This Scavenger fits the following motorcycles:
1999 - 2016 Road King
1999 - 2016 Touring
The Fitting for the RC140 is CNC machined out of 1018 steel and finished with a black oxide coating. The suction hose is open mesh polyester braid encapsulated in walls of clear, flexible PVC hose. A crystal clear compound provides full visual and a mirror smooth interior permits outstanding flow characteristics. The hose has flexibility similar to rubber but with a much longer life. The "puck" is CNC machined from 6061 Aircraft aluminum made to last a life time. And it is all made in the USA.
Have more than one bike? Get a supplement kit! 
Important fitment update.
Sometime in 2015 the factory reduced the size of the hole drilled in the tunnel in the
bottom of the oil pan. This hole is sealed by the O ring on the Scavenger fitting and allows the oil to be drawn from the Scavenger hose. The result is the original O ring is too large to fit in the hole. The Scavenger now comes with the original size O ring installed and one extra. Also included is two smaller O rings for the newer touring bikes.
The O ring sizes are -109 for the original size and a -108 for the new size. If you need new O rings or have any questions email me at phil@roguechopper.com  or call 866-877-6483
*Flat rate shipping charge of $8.99 for US, $12.99 Alaska, Hawaii and Canada, and $19.99 International